I would think most people have had some sort of personality profile in their lives.  First ones are usually in high school and relate to career development.  You may have had one at work later on, or taking some random online test.  They all seem to fall into the same general category, like Myers Briggs.
The one we've been focusing at work is Insights.  Similar model, but a larger focus on interactions between the profiles.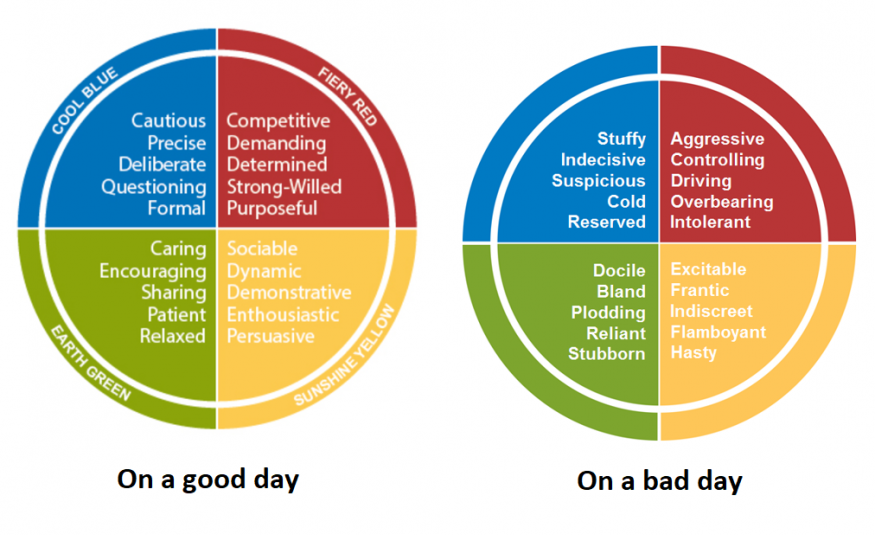 The north/south axis is related to data/feelings, respectively.  The east/west axis is related to introvert, and extrovert, respectively.  The challenges in communication between profiles is when they are directly opposite – so someone that's mostly Blue (introverted and data driven) has trouble with people who are Yellow (social and runs with their gut).
The challenge with any of these assessments is that they are exclusive choices.  You are presented with options, and since it's a priority, one choice is the "best" one given your current context.  Let's say your house is on fire, you are going to make different decisions than if you're just making dinner.  In that sense, these are role-based assessments.
So first some work context – I work in an IT related field.  The stereotype is generally there, with a whole bunch of Blue and very few Yellow.  When I'm trying to fill a gap in the team, I often leverage this model to figure out how best to pick a candidate.  The technical domain changes all the time, but it takes a mountain to change a personality type.  Too many Red and you get conflict.  Too many Yellow and no work gets done.  Too much Green and you have people waiting.  Too much Blue and you have analysis-paralysis.
My personal assessment puts me as a very strong Red, with part of Blue. so I tend to trend between Director and Reformer.  I struggle with the Support/Helper role, I really do.  There are times where I need to take a couple deep breaths before responding.  They need to feel valued in the larger sphere of work, and their motivators are not tangible.  If they wake up on the wrong side of the bed, well, that day's a wash.  If they wake up on the right side of the bed, then they have some sort of magical sauce that makes the team 8x more productive.
A reminder that this is role based, so this assessment is related to work.  There's an "unconscious" evaluation, one where you're not at work.  I still trend in the same role, but my Red trends downwards, and it's a more balanced view across the 4 colors.  Balanced, in the sense that I actually have Green in my non-work state, not in the sense of equal values.
My wife is an Inspirer/Motivator.  She's damn good at it too.  That means our kids are exposed to two people who are mostly extroverted (my wife much more than I).  I consciously push into the Blue to offset my wife, and she works on pushing into the Green to offset me.  That still leaves a point where we both move into a "get shit done" mode, and that only gets you so far.  So we spend some time talking over our days, seeing what worked out and what we want to try the next time.  That we're aware of this at all is probably the most important step.  Much easier to work on being a parent as a team, than against each other.
It's interesting to think about the genesis of this post.  I've covered bits of it in the past, but a recent event at work really made me take stock of my personality once again.  It's good to write it down again, remind myself that progress is really only achieved as a team, and that for every perceived weakness, there's also a strength.